The stages is set for the greatest battle ever fought on the continent of North America.
GETTYSBURG PRODUCTS
FOLDED ROAD STYLE MAP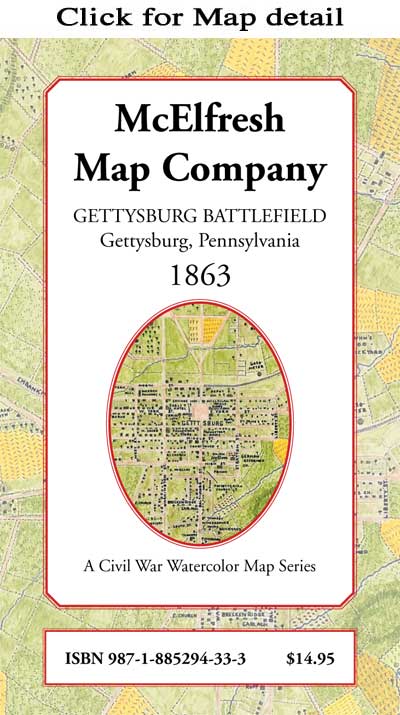 Scale: 1"=800'
Map Image: 21" x 30"
Overall size: 23" x 33"
Reverse Side: Full color reproduction of six contemporaneous Gettysburg related maps either used or prepared by topographical engineers. Also, informative captions and striking wartime photographs of the principal Union and Confederate mapmakers on the field, G.K. Warren, Jed Hotchkiss, William Henry Paine and Washington Roebling.
ISBN: 1-885294-33-3
Retail Price: $14.95
20th Anniversary Special: $7.50
Packaged in reusable plastic sleeve.
A History Book Club Selection.
MAP PRINTS
GETTYSBURG DAY 1
Fine Print Map on text weight paper. Image size : Length 22.5 inches by 16 inches Price: $24.00
GETTYSBURG DAYS 2 AND 3
Fine Print Map on text weight paper. Image size : Length 21.5 inches by 16.6 inches Price: $24.00
NEW GETTYSBURG PRODUCT
ENTIRE GETTYSBURG 1863 MAP
Printed on card stock, the print measures 14 3/4" length by 11". Price: $16.95
Copyright ©1999-2015 McElfresh Map Co., LLC. All rights reserved