The Battlefields of Manassas, Virginia 1861 and 1862
The first real battle of the war and the second of Robert E. Lee's incredible victories.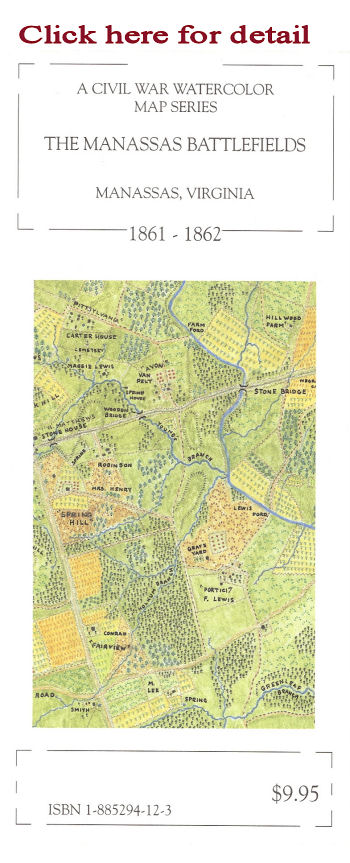 Scale: 1" = 2700'
Map Image: 21" x 15"
Overall Size: 18" x 28"
CURRENTLY SOLD OUT
Reverse side: The text includes a monograph of the unfinished railroad, the principal tactical feature of the Second Manassas battle. A detailed sketch map of the unfinished railroad is reproduced, inset with modern photographs of the existing remnants of the unfinished railroad including the massive stone abutments at Cub Run and Bull Run.
ISBN: 1-885294-12-3
Retail Price: $9.95
Sleeve is reusable.
A History Book Club Selection
New Manassas/Bull Run Product Available
Bull Run Fine Print Civil War Map.
An 8 1/2" By 11" map of the Antietam Battlefield prepared by Earl B. McElfresh. Printed on one hundred pound text weight paper. Suitable to be framed. Signed and dated on the back. Packaged in an acrylic sleeve. Priced at $12.95
Copyright © 1999-2011McElfresh Map Co., LLC. All rights reserved.






home | about us | news | order | gallery

wholesale info | links | sitemap |search
Civil War Maps Mapping Where Americans Made History™ Battlefield Maps