Freedom's Tracks: A Map of the Underground Railroad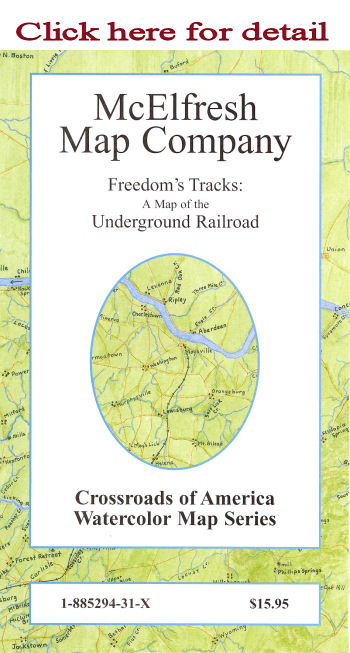 This map offers an overview of the nebulous but very real system that transported fugitive slaves to freedom and relative safety in the Northern States and Canada.
Principal Map Scale : 1"=57 miles
Detail Maps: Various scales
Map Image: 31" x 21"
Overall size: 33" x 22"
Description: Stretching from Eastern Nebraska and Kansas to North Carolina and Maine and up into the British Possessions and Canada, the routes of the Underground Railroad are documented and graphically reproduced. Photographs of certified Underground Railroad "stations" and detail maps of the most prominent places and episodes of the Underground Railroad are included.
ISBN: 1-885294-31-x
Retail Price:$15.95
20th Anniversary Special: $8.00
Packaged in reusable sleeve.
A History Book Club Selection
Copyright 1999-2011 McElfresh Map Co., LLC. All rights reserved.






home | about us | news | order | gallery

wholesale info | links | sitemap |search
Civil War Maps Mapping Where Americans Made History™ Battlefield Maps