Little Big Horn Battlefield, Montana Territory, June 1876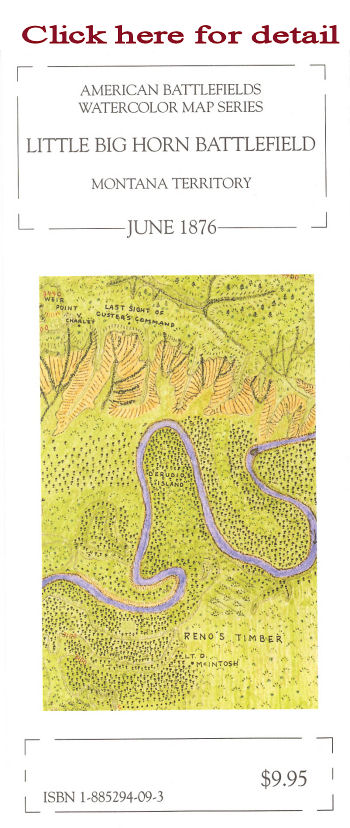 "It shows the terrain, significant sites and troop movements more clearly than any map I have seen." Robert M. Utley author of Cavalier in Buckskin
The most famous little battle in the world.
Scale: 1" = 1000'
Map Image: 17" x 33"
Overall Size: 18" x 36"
Reverse side: Text includes an account of George Armstrong Custer's brief Civil War career as a topographical engineer. Reproductions include the Culbertson (Seventh Cavalry) Guidon (published for the first time in color), the 1877 Fouch photograph believed to be the earliest ever taken at Little Big Horn, a full color Philo Clarke Indian map and two black and white photos of pack mules and Custer's quarters at Fort Abraham Lincoln.
ISBN: 1-885294-10-7
Retail Price: $9.95
20th Anniversary Special: $5.00
Sleeve is reusable.
A History Book Club Selection
Copyright ©1999-2007 McElfresh Map Co., LLC. All rights reserved.






home | about us | news | order | gallery

wholesale info | links | sitemap |search
Civil War Maps Mapping Where Americans Made History™ Battlefield Maps