America of the Civil War 1861-1865

This map identifies and locates the 383 most significant battle sites of America's most significant historical event, the Civil War.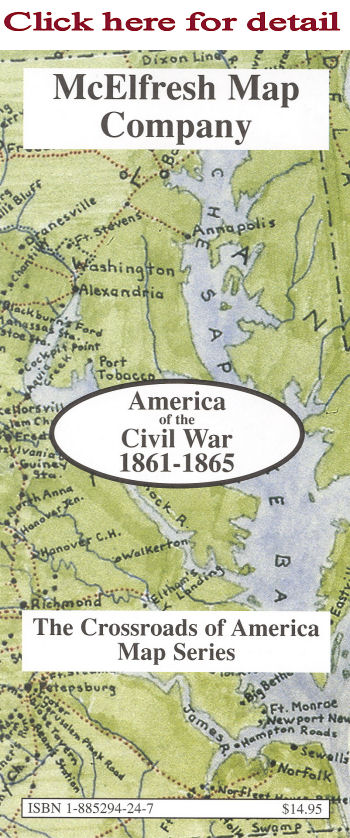 Scale: 1"=850'
Map Image: 16" x 20"
Overall size: 18" x 28"
Description: This map portrays what became the contiguous United States as it appeared in 1865. Inset maps of Tennessee and Virginia and a highly detailed map of the area around Richmond, Virginia provide a convenient guide to the battle sites of the Civil War. The reverse side reproduces five contemporaneous Civil War maps in full color with extensive captions including Jackson, MS, Harpers Ferry, WV, Franklin County, PA (detail), Hotchkiss Winchester, VA, United States Coast Survey Chattanooga, TN.
ISBN: 1-885294-24-7
Retail Price: $14.95
Anniversary Special:7.50
Packaged in reusable sleeve.

Copyright 1999-2016 McElfresh Map Co., LLC. All rights reserved.






home | about us | news | order | gallery

wholesale info | links | sitemap |search
Civil War Maps Mapping Where Americans Made History™ Battlefield Maps