Pearl Harbor and Military Environs, Oahu, Territory of Hawaii, December 7, 1941

Roosevelt called it the day of infamy. History judges it, 60 years later, as the beginning of the end of World War II.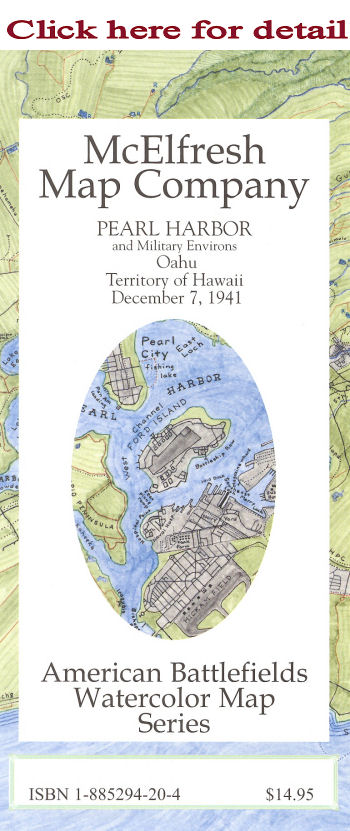 Map shows a detailed layout of such installations as: U.S. Naval Base at Pearl Harbor, Ford Island, Hickam Army Air Base, Wheeler Field, U.S. Marine Air Base at Ewa, Bellows Field, Fort Kamehameha, Aliamanu Crater, Fort Shafter, Schofield Barracks and others.
Overall Size: 28" x18"
Image Size: 20" x17"
Scale: 1:62,000 (app. 1 inch = 1 mile)
Reverse Side: includes reproductions of 16 period linen postcards. They depict the flavor of 1940's era Pearl Harbor as no other images can.
ISBN:1-885294-20-4
Retail Price: $14.95
20th Anniversary Special:$7.50
Sleeve is reusable.
A History Book Club Selection
Copyright ©1999-2011 McElfresh Map Co., LLC. All rights reserved.