Map of the Expulsion of the French Acadians

Ethnic cleansing got its start in North America in 1755. English and Colonial troops systematically transported thousands of Acadians of French origin to numerous alternative destinations.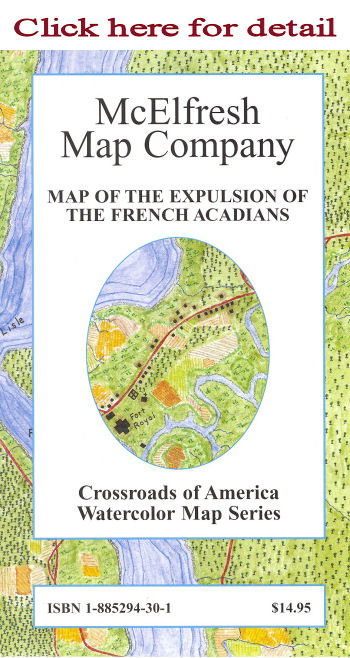 Principal Map Scale : 1"=app. 15 miles
Detail maps: Various scales
Map Image: 35" x 19"
Overall size: 36" x 23"
Description: This map reconstructs the Acadia of the Expulsion with detail maps depicting the most prominent sights down to the crops and the individual homes. Several sketches recreate the forts and block houses that characterize defenses in these perilous times.
ISBN: 1-885294-30-1
Retail Price: $14.95
20th Anniversary Special: $7.50
Packaged in reusable sleeve.
A History Book Club Selection
Copyright 1999-2016 McElfresh Map Co., LLC. All rights reserved.






home | about us | news | order | gallery

wholesale info | links | sitemap |search
Civil War Maps Mapping Where Americans Made History™ Battlefield Maps