The Battlefield of Santiago de Cuba, Cuba 1898

The 100th anniversary of the Spanish American War was celebrated in 1998. McElfresh Map Co., published a map of Santiago de Cuba in commemoration of the war.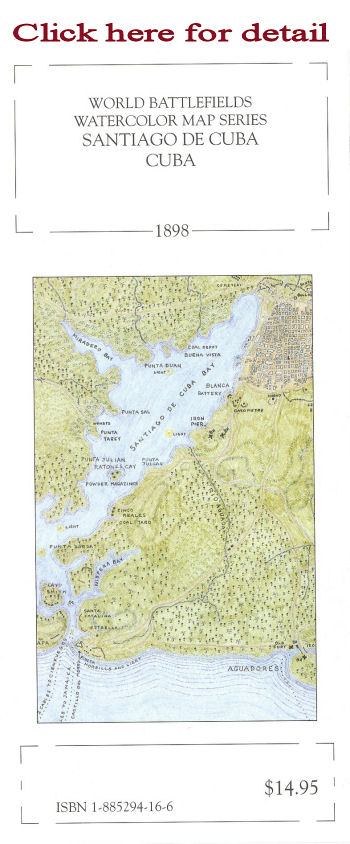 The map is drawn in general conformity with maps drawn by the Army Corps of Engineers in 1963. A 1980 Soviet General Staff map supplied corroboratory details. A number of contemporaneous Spanish-American War maps provided the cultural and physical details and the look of the battlefield in 1898. The scale is 1"=4224'.
Reverse side: Includes a narrative entitled "General J.C. Breckinridge's Notes on a War" which describes various aspects of the life among the American, Cuban and Spanish soldiers. There are also reproductions of the guidon of Company G, a field telephone used during the war, and a photograph of the Rough Riders gathering for inspection in Tampa, Florida.
Price: $14.95
ISBN: 1-885294-16-6
20th Anniversary Price $7.50

A History Book Club Selection
Copyright 1999-2011 McElfresh Map Co., LLC. All rights reserved.






home | about us | news | order | gallery

wholesale info | links | sitemap |search
Civil War Maps Mapping Where Americans Made History™ Battlefield Maps